BigLeash S-15 Remote Trainer
Because dogs will be dogs
Dogs love to run and jump. Dogs love to dig. Sometimes they bark and sometimes they don't come when you call. A BigLeash can help with that.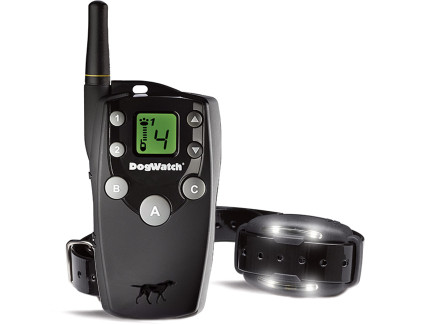 The BigLeash Remote Trainer is a safe and effective training tool to help you train your dog.
Remote training collars are used to teach and reinforce training commands such as 'come', 'sit', 'stay', and 'heel; and they can also be used to help correct unwanted behaviours such as
Chook Stalking

Cane toad/ Snake proofing

Chasing cars

Jumping on cars

Recall issues

Barking excessively

Destructive Behaviour
15 Levels of Stimulation
The BigLeash Remote Trainer offers 15 training levels (levels of stimulation) to accommodate a wide variety of training needs and pet personalities, but not so many that picking the correct level requires an advanced degree.
Comprehensive LCD Display
The LCD display on the BigLeash gives you more information than any other remote trainer. All the information you need is available at-a-glance, keeping you fully informed of the transmitter & receiver status, battery status, training level and your dog's distance from the transmitter.
Two-Dog Ready
With built-in two dog capability, you can easily train or manage two dogs with the same transmitter. And because your dogs may have different training needs (and personalities), you can store separate settings for each dog. (You will need a second collar - not included)
Collar 1/ Collar 2: If you use the BigLeash with two dogs, this lets you know which collar will receive the signal. You can switch from Dog 1 to Dog 2 with the push of a button and settings for each dog will be retained when you switch.
Paw Icon: The paw icon indicates that the receiver collar on and functioning properly.
Signal Strength: This unique feature lets you know if your dog is moving out of range of the transmitter. When the number of bars decreases (Example 2), the dog is moving away from you and it's time to send a signal for him to return!
Transmitter Icon: Indicates that the transmitter is on and functioning properly.
Low Battery Icon: Warns you when the transmitter battery is low and needs to be recharged.
Training Level: Lets you know the vibration level setting. The setting can be easily increased or decreased with the push of a button. The transmitter is designed for easy one-handed use and minimal visual reference so you can keep your eyes focused on your dog when you need to.
In-Touch Two-Way Communication
The BigLeash is the only remote trainer with two-way communication between the hand-held transmitter and the dog's receiver collar. This important feature helps you stay safely connected with your dog via the visual range indicator on the LCD screen that shows you if your dog is going out of range – so you can call him back before it's too late.
4 Signal Options
Select the signal you need, when you need it.
A = Audible/Vibration: sends a audible tone or vibration, whichever you prefer.
B = Brief: sends a single brief traning signal.
C = Continuous: sends continuous signal as long as you hold the button (up to 8 seconds).
FireFly Nightlights
All BigLeash receivers have two LED light bars that can be activated from your BigLeash transmitter with the push of a button. The FireFly feature is great for walking your dog at night or locating him in the dark.
800m Range
You wont loose him on the beaches. More than enough to give your dog some room to roam when you go out for leash-free walks.
Waterproof Receiver
Because dogs will be dogs.
How Remote Trainers Work
Remote dog training collars can serve many purposes. They essentially are an form of "language". You can train a dog using a remote as a signalling device whereas the dog is given a "low level stimulation" coupled with a reward based delivery, to create a form of "seek and find" behaviour based on a "recall"; or it can be used to distract or extinguish a behaviour via the timely and appropriate application of "artificial aversive" if the dog decides that the value of your wishes are outweighed by perceived greater value by something else.
Why Remote Trainers Work
Remote trainers have several major advantages over other training techniques:
1. Precise Timing.
Keeping the training message clear helps your dog learn more quickly.
2. Consistency.
Consistency is key to any learning. Make your training message precise and keep it consistent, and your dog will understand what you expect. He'll be happier – – and so will you.
3. Remote Application.
Allows you to send a traiing signal even if your dog is not clsoe enough to hear your verbal command. A remote signal is not possible with other training approaches.
4. Anonymous Application.
Reinforces training because your dog learns to associate the training signal with his behaviour and not with you.
Includes
Transmitter and Receiver

Black Collar Strap

Battery Charger

"Y" Connector (to charge both units at once)

Two Sets of Contact Posts (long & short)

Test Light / Contact Post Tool

Neck Lanyard

Owner's Manual
The S-15 Remote Trainer Features
In touch two way communication

Remote activated Firefly nighlight

15 Adjustable stimulation levels

Audible and Vibration signals

Long lasting rechargable batteries

Low battery indicators

Waterproof receiver

Weatherproof transmitter

800m Range

Built-in two-dog capability

1 year Limited warranty
| | |
| --- | --- |
| SKU | DW-BIGLEASH-S-15 |
| Brand | DogWatch |
| Shipping Weight | 0.4200kg |
| Shipping Width | 0.050m |
| Shipping Height | 0.050m |
| Shipping Length | 0.050m |
| Shipping Cubic | 0.000125000m3 |
Be The First To Review This Product!
Help other Pets OuterSpace users shop smarter by writing reviews for products you have purchased.
Related
products
Chenille Microfiber Super Absorbent Extra Large Do
From AU$69.95
More From
This Category
Dog Adjustable Safety Harness Soft & Comfortable
RRP AU$29.95 From AU$11.70
USB Rechargeable Flashing LED Dog Collar
RRP AU$29.95 From AU$19.95
The Side Walker Leash Trainer by DogWatch
RRP AU$220.00 AU$195.00
The Bark Collar - No Bark Trainer BT-7 by DogWatch
RRP AU$220.00 AU$195.00